Holistic Healing for Animals
Animals respond very positively to Reiki and Holistic healing as they don't have the 'busy minds' and preconceptions that people do. In most cases, they they become deeply relaxed or may fall into a restful sleep during or after the treatment, and remain relaxed and calm for days after. ​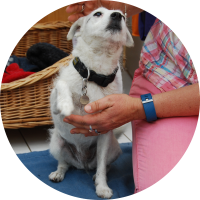 Reiki or Holistic Healing
"Reiki" means "spiritual energy" and refers to the energy that makes up all things in the universe. I use the practice of Reiki and Holistic Healing as holistic support of an animal's wellness instigating relaxation, self-healing and re-balance.
​
The treatment is carried out in a way that is non-invasive and comfortable for your pet. It can be delivered by the healer​ (me) either touching the animal, or healing you with your pet on your lap, or from a short distance in the same room or even somewhere far away, with the healing energy directed towards the animal, called Distant Healing. It usually lasts fifteen minutes to half an hour; the session length dictated by the animal, which will absorb as much healing energy as it needs at the time, after which the energy ceases to flow. In cases of injury or illness, the permission of the vet who has been
treating your pet may be required.

---
Radionics
Radionics is a form of holistic distant healing which focuses on the identification and treatment of causes within the subtle bodies (etheric, emotional and mental) for the 'disharmony' within the patient. Positive effects may be felt quite quickly with a sense of improved wellbeing and reduction in physical symptoms. In treatments the energetic patterns of colour, crystals, flower and homeopathic remedies can be transmitted.